The Magic Mirror
This inspired solo harp CD
calms the mind,
relaxes the body
and gently touches the soul.

For More Information
DailyOM Review
Join my Affiliate Program and get paid when you share
"The Magic Mirror" audio download on your website.
From the Darkness
Comes the Light
These inspired solo harp expressions gently invite
the listener to travel into a deep state
of relaxation and peace.
LOOKING FOR INSPIRATION?

A Space Within
Allow the 13 tracks on this original 62 min. solo harp CD
to awaken your creativity and unique self-expression.

As you listen, let yourself imagine...play like a child.
If thoughts and ideas come to you, express them...
create your own titles...write your own words...
draw your own pictures...dance your own dance...
it's all a beautiful expression of your connection
to your Space Within.
Review by DailyOM
LOOKING FOR INNER PEACE?
In the Light of Love
Each day the light within our heart awakens
with the desire to manifest our love.
These original solo harp melodies
celebrate our dance with Venus,
the Morning and Evening Star.
FREE Download of Track 1 - "Morning Star"

Review by DailyOM
Review by RadioIndy
LOVE MYTHOLOGY?
DREAMS - the love within
Inspired by the ancient Mesopotamian myth,Nanna and Ningal,
these beautiful melodies awaken the cellular memory of our
subconscious dreams and soul's desire to create and share our love.
A Quantitative EEG pilot study conducted by William Collins, PhD,
indicated this music produced a relaxed mental state
in all 5 subjects measured.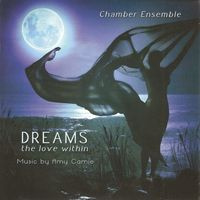 DREAMS - the love within
chamber ensemble version
To listen and order
For more information about this transporting CD:
DREAMS - the love within - Chamber Ensemble
FEELING SEPARATED
WITHIN YOURSELF?
3 Gateways
BODY MIND SPIRIT
These hauntingly beautiful solo harp melodies awaken the deep
remembrance that 'there is no death'....and in that awareness,
only love and transformation exist as the body, mind and spirit
come into balance and harmony.
I've played these original solo harp melodies for hundreds of
hospital patients as part of a Healing Therapies Pilot Study
resulting in a substantial decrease in pain and distress levels in nine minutes.
Enjoy these videos of "3 Gateways"


To Read More and Order
This magical expression of the Feminine Energy was spontaneously co-created
in a single 3-hour recording session during the time of the Gulf Oil Spill,
as both artists connected deeply to the energy of Mother Earth
and the Divine Feminine within each of them.
REBIRTH - Awakening the Feminine Energy is a multi-dimensional journey
reflecting the evolution of the Feminine Energy
from a personal, collective and Universal experience
which we all hold in our cellular memory.
Listen & Download from CDBaby
Listen & Download from Bandcamp

LOVE NEW SOUNDS?
Nebula
harp & violin
A new experience of harp and virtuosic violin
like you've never heard before.
This dynamic original music takes you on a tour
of cosmic energies, expressing universal truths
in a musical language beyond words.
It's beautiful, transcendent and uplifting.
To Listen and Order
ALWAYS TAKING CARE OF OTHERS?
Compassionate Reflections
Meditations for Self-Care, Serenity, & Hope
harp & imagery
This new CD encourages you to sit back in your favorite chair, exhale,
and relax into gentle imagery and soothing harp music.
Discover new pathways as you journey through these peaceful get-aways
and heart-opening settings that awaken the compassion within.
This CD of three separate meditations was designed as a visceral experience of
Self-Care, Serenity, & Hope.
To Listen and Order - MP3 and FLAC files only