Photo by Julie Enstall
One of the things I've learned by walking two journeys through cancer is that everyone must do it in their own way. Prior to my first diagnosis, I had been sharing harp music within the cancer, hospice and grief communities so I was fortunate to have many resources and friends who could help guide me. From the beginning, I sent out regular Updates as to what I was doing and how I was feeling. This Resource Page is a summary of some of the resources I used to embrace this experience and truly learn how to take care of and love myself from a balanced perspective, both inside and out.
Here are several Resource Videos we are creating... this
MY SPIRITUAL SELF
My loving husband, John, is the Messenger of The ORIGIN System of Self-Discovery
I was able to walk my journey with cancer from a place of deep
inner love and compassion largely because of this system.

Sending Updates to Friends and Family

MY MENTAL SELF

Upon diagnosis I listened to "The Magic Mirror" CD twice a day

Yogini Nithyananda
Teaches one to transcend with a deep powerful technique of meditation
phone: 314-647-5099


MY PHYSICAL SELF
Massage Therapist
Cynthia Paley
Creve Coeur Area
St. Louis MO
Phone: 314-229-7027

Physical Therapist
I started receiving lymphatic massage 10 days after surgery...highly recommended if lymph nodes are involved
MERCY Therapy Services
David C. Pratt Cancer Center
607 S. New Ballas Road, Suite 2210
St. Louis, MO 63141
phone: 314-251-6571
Medical West
444 South Brentwood Blvd.
St. Louis , MO 63105
United States
phone: (314) 993-7979
Toll-free: (866) 595-7979

The Breast Prosthesis Center at Medical West is a unique boutique for women after breast surgery. I purchased my armsleeve and hand glove to wear after surgery to prevent swelling after lymph nodes were removed. Hint: It STAYS! by Trulife, gentle roll on body adhesive, helps the sleeve stay up high on the arm.
I found wonderful Warners Bras: Style 02079 and Style 2085 at Kohl's with the help of a dear friend who specializes in bra fittings.
After my second diagnosis and mastectomy in January 2013, I went back to Medical West for Prosthesis care. Prior to surgery I purchased a soft cotton sleeping bra that hooks in the front along with a non-weighted simple prothesis stuffed with what felt like pillow stuffing. I alternated wearing my surgical bra from surgery with this cotton bra and prosthesis until my drain was removed. Medical West also has cotton pouches that velcro under your bra strap and holds the surgical drain. This was so much more comfortable than having the plastic drain against my skin. After two weeks, I could feel the imbalance between my natural left breast and my right side. It was time to get a 'real' prosthesis. I took my own bras to Medical West and was professionally fitted for a full prosthesis and a light prosthesis. My bras offered full breast coverage and a nice wide band under the arms for support so I was able to continue using these bras with my new prosthesis. Each prosthesis came with a protective covering which is removable for hand washing. Listen to your body as to the proper prosthesis weight you need. Once you have a full (heavier) and light prosthesis, gradually work up to wearing the heavier one. Start by wearing it for a few hours and then take it off. Our bodies are readjusting to a new 'normal'...be gentle and listen.
Acupuncture and Chinese Herbs
Dr. Wenying Cui
Former Professor of Beijing Medical University
Dept. of Combined Chinese and Western Medicine
Office: Beijing Herbs and Arts
8625-A Olive Blvd.
St. Louis, MO 63132
phone: 314-432-2935
(located just East of 170 on Olive in the Nobu's Rest. stripmall)

Healthy Eating
Bridgette Kossor
phone: 314-920-6110

Gentle Yoga
Jane's House of Well-Being

Camille Kittrell
www.exclusiveyoga.com
DVD available: Gentle Yoga for Recovery & Beyond
phone: 781-647-733
Touch for Health
Norma Harnack, RN, BSN, LMT, HTP
Massage & Energy Connection
7159 Manchester
St. Louis, MO 63143
phone: 314-647-6288

Additional Classes and Support Groups are available through the Cancer Support Community
Here's a website full of valuable information I didn't know when going through my treatments -
hope it helps: FINANCIAL RESOURCES FOR CANCER PATIENTS
MY PERSONAL CHEMOTHERAPY PROTOCOL
- l listened to "The Magic Mirror" daily and used a powerful meditation to transcend

- Thanks to David Kossor, PhD, a research/scientist friend, and dear soul sister Deborah Burnett, ASID, CMG I learned about the benefits of Melatonin and took 15mg of melatonin at night to support intestinal environment, hair folicles and healthy cell growth. I purchased mine at CVS Pharmacy - Nature's Bounty Brand/ 5mg 9( .

- Deborah Burnett, ASID, CMG a specialist in light and dear friend, encouraged me to get outside between 9:30am - 11am every morning to keep my circadian rhythms in balance...I also went to bed between 9:30pm-10:30pm every night to reduce my Light at Night exposure.

- Starting taking B6 (200mg/daily) to help support nerves and Align probiotic for intestinal support

- Brushed my teeth after every meal and swished with Salt Water & Baking Soda 2-3 times a day

- Created a Drug Log Sheet to help me keep track of all my medications and then I could check them off
- Drank lots of water, especially the day before chemotherapy
- Ate lots of whole grains and green leafy vegetables
- Went to acupuncture 3 times a week and drank Chinese herbal tea twice a day
- Lymphatic massage (physical therapy) every week until I had full range of motion with my arms...then we cut back to every other week
- During chemotherapy treatment I listened to my other harp CDs (REBIRTH, 3 Gateways, DREAMS, In the Light of Love) while pre-meds were being administered. I asked to hold the chemotherapy bags in my lap during premeds so my body could vibrationally adjust to the frequency of the drugs. As soon as the chemotherapy drugs were hung, I put on "The Magic Mirror" CD and 'went under'...completely relaxed and open to allow the drugs into my body without fear or resistance.
- Picked out my wigs before losing my hair...we bought one at A+ Wigs and Cuts and received a free one from the David C. Pratt Cancer Center...check with your Cancer Center, they may have free ones
- Wore scarves on my head more than wigs...The most comfortable way I've found to tie them is:
- using a wide, long rectangular shape
- place the middle of the scarf on the forehead
- pull the sides to the back of the head
- criss-cross the ends or wrap them, one over the other like you're tying a shoelace
- bring the ends back up to the forehead, criss-cross a couple times to create a knot looking shape
- take one side of the scarf and open it up, bringing it over the head to the backside
- do the same with the other side of the scarf...this will cover the top and backside of the head
- tie the two ends together in the back at the base of the head-
After my 2nd treatment, Julie Enstall took beautifully inspired photos capturing the essence of who I AM.
- After my 3rd treatment I started using Alpha-Stim every day to help with fingernail sensitivity
- Chemotherapy started Feb. 11, 2011 - had 6 Treatments total / 1 every 3 weeks
Drugs for first 3 Treatments were:
Premeds: Emend - prevent nausea, Aloxi and Decadron to prevent nausea
Epirubicin 195mg - chemo push, 5FU 970mg - chemo push, Cytoxan 970mg - chemo - IV bag
Next 3 rounds were Taxotere 75mg/M2 x 3

MY PERSONAL RADIATION THERAPY PROTOCOL
- I listen to "The Magic Mirror" daily during treatments
- Created a new log sheet of daily vitamins and activities
- Acupuncture 2 times a week plus Chinese herbal tea twice daily
- take B6, Align, Vitamin D and Mushroom Power Herbal Extract
- apply Calendula cream on radiation site 3 times a day...I purchased mine from Cheryl's Herbs
- I've also found Banana Boat After Sun Lotion which was suggested by another friend who used it...I love it
- lymphatic massage every other week
- CLEANING & CLEARING OUT...both inside and out....my dear friend, Marti Soler has helped me clear my living and work space for years. Now that my energy is stronger, I'm able to address a deeper level of clearing. Her experience in the hospice and grief world gives her a special insight into WHY I'm holding on to things and asks the perfect questions from a spiritual and emotional space that helps the clearing to take place on all levels. Here's her contact info: phone: 636-405-7136 / email: marti1@charter.net

There are so many people who have supported me on my journey that it would be impossible to list everyone. Please know that I am truly grateful for each and every connection, for it has brought me to where I am today. Thank you!
One of the most important lesson I've learned is to really listen to my own body and make loving choices accordingly. I would encourage everyone to begin listening to their bodies, for they are helping us remember to love ourselves.
If you have any questions, please feel free to email me at: healingharp (using the @ symbol) aol.com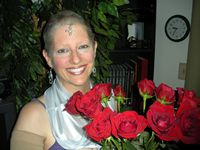 Loving life...all of it,
Amy