"The Magic Mirror" CD
Corporate Sponsorship Opportunity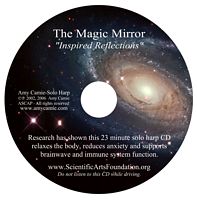 This inspired solo harp music calms the mind,
relaxes the body, and gently touches the soul.

Now you can share this healing harp CD with
patients, family members, clients, staff, volunteers, and others.
It's a non-invasive, simple and cost-effective way to show you care.
Plus, it's supported by pilot study research.
When ordering 5+ CDs, the price is $10 each
This CD is packaged in a white fiberboard sleeve
with a solid white back panel for you to create a personalized label.
This packaging option is available when ordering 5+ CDs @ $10 each.
Please contact me with your request and I will email you a PayPal invoice.
This page is designed to share information
about our research with "The Magic Mirror" CD
and ways Corporations, Groups and Teams
can sponsor this CD as gifts. This page is designed to share information
about our research with "The Magic Mirror" CD
and ways Corporations, Groups and Teams
can sponsor this CD as gifts.
"The Magic Mirror" has touched the hearts of thousands
THE GIFT

QEEG pilot study research with this 23 minute CD indicates it has a direct positive impact on brainwaves disrupted by stress and trauma. After listening to this CD once a day for 10 days it increased neurological functioning (as measuring by Quantitative EEG) in 5 women undergoing chemotherapy treatment for cancer.
Dr. William Collins conducted the QEEG pilot study and commented:
This study was designed to be slightly more sophisticated in that we were comparing the subject's brain wave frequencies with those of a normal population. This way we could see not only if there was any change but whether that change was significant when comparing it to a normal population. Basically, how did our subjects fare when compared to the average population's brains? These were brains that did not have to deal with cancer, treatment or the effects of either. They were the norm – how would we stack up against the norm?

The results were in a direction that was totally unexpected. I had supposed that certain frequencies related to stress or relaxation would change. Solo harp music is very relaxing and enjoyable. This would be a reasonable expectation.

What I didn't expect was that fundamental brain functioning would change. In each of the subjects the pre qEEG report indicated specific areas of deviation from the norm or decreased functioning. As we supposed, the stress had made its mark on each person involved in the study. The brain showed decreased ability in every day life.

However, after listening to the music for ten days, ALL subjects' brains tended to normalize.
In other words, listening to "The Magic Mirror" solo harp music had a direct positive effect on the subject's neurological functioning, not simply increasing or decreasing stress responses.
Saliva sample studies also indicated that this music had a sustained impact on immune system biomarkers for up to 72 hours after listening to it once. Dr. Abdul Waheed summarized these findings by stating: These results suggest that the effect of "The Magic Mirror" listening is very effective and could be used in combination with other therapy for cancer or physiologically stressed patients to minimize the effect of their disease.
Pediatric Pilot Study conducted by Dr. Anu French - her comments include:
"Our pilot study on 'The Magic Mirror' harp music (by Amy Camie, Harpist) as a cost-effective biofeedback/neurofeedback tool to relieve stress, build intergenerational resilience and teach self-regulation, was well received at the AAP's Section On Integrative Medicine Session! Thanks to SOIM research grants from the AAP/MPPPA and hard work by Kristy Shaughnessy, our wonderful research assistant, we showed positive outcomes in resilience and QOL (quality of life) scores and calming of QEEG brainwave patterns supporting our hypothesis that this healing music by Amy Camie has powerful psychoneuroimmunological effects to help reverse inflammation/toxic stress."
When ordering 5+ CDs, the price is $10 each
Please contact me with your request and I will email you a PayPal invoice.
THE PACKAGING
Each CD is packaged in a white fiberboard sleeve with a circular opening in the front and a solid white back panel for your marketing, information or team label. suggested label size: Avery 5164 - 3 1/3 X 4 inches (Labels are not included)

THE POTENTIAL TO SHARE
Use these CDs as gifts: to your patients, staff, volunteers, at special events, community gatherings, or as thoughtful give-a-ways at charitable activities. Include in New Patient Welcome Kits. Incorporate into your existing program. It's easy to use, cost effective and safe.

THE BENEFITS
Amy's solo harp CDs have been part of nine different research studies showing how they induce a state of relaxation in four minutes, increase neurological functioning, support the immune system and reduce anxiety.
Testimonials of how this music changes lives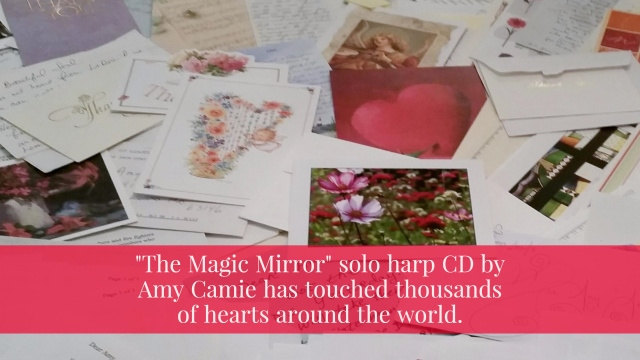 A Sample List of Organizations that have sponsored this CD as gifts:
Alternative Hospice
Ascension Health
SSM St. Mary's Health Center Foundation
SSM St. Clare Health Center Foundation
Mercy - St. Louis
St. Louis Ovarian Cancer Awareness (SLOCA)
MS Evening of Hope
Alzheimer Association
JCC of Manhattan
Little Patriots Embraced
A PERSONAL NOTE from Amy Camie:
For years I have been listening to "The Magic Mirror" CD to help focus my energy, de-stress and relax. During this time, numerous testimonials and our pilot study research continued to support the value of this music. In December, 2010 I was diagnosed with Stage 2 breast cancer and could never have imagined the impact that listening to this CD would have on my personal journey. Immediately upon diagnosis, my body literally 'craved' the vibrations of this music as I listened to it 2-3 times a day. It helped calm my mind and relax my body during the chaos and confusion of what seemed like continuous tests, waiting for results, decisions, an overload of new information, and all that comes with a cancer diagnosis. Because of our pilot study results, I knew that I was supporting my immune system and my neurological functioning but I also felt on a very deep level that my spiritual and energetic 'Being' was also being nurtured and supported. The vibrations of unconditional love, hope, comfort and peace flowing through this music were and are invaluable as I continue through chemotherapy and radiation treatment. My commitment to having this CD given to newly diagnosed cancer patients is a personal mission and I now know from my own experience how important and valuable this music can be for everyone going through this journey. Click to read more about My Cancer Journey

Click Here to watch the nature video "Autumn" and
hear the first 4:28 minutes of "The Magic Mirror"