For those who attended the "Tender Mercies" concert on
December 15, 2013, at MERCY Conference and Retreat Center,
you'll remember the breathtakingly sacred space that was created.
Now, you can relive those magical moments
as you listen to this CD recorded LIVE during that event.
Harpist, Amy Camie, Soprano, Patricia Scanlon
and The Diamond Star Ensemble
blend familiar songs of the Advent/Christmas season with inspired
original melodies, creating a sacred space for inner reflection.
Free your heart to experience this quiet and tender grace…
a compassion that flows from within to be shared with our world.
Listen and Download from:

Purchase Physical CDs via PayPal
for $12 each plus shipping
Sheet music is available for several selections
"Tender Mercies" is a musical journey awakening our inner light.
Fresh new arrangements capture the
essence of familiar holiday favorites;
interwoven with spiritually inspired melodies
reminding us of our wholeness and Universal connection
to the loving light within and around us.
Relax and Enjoy…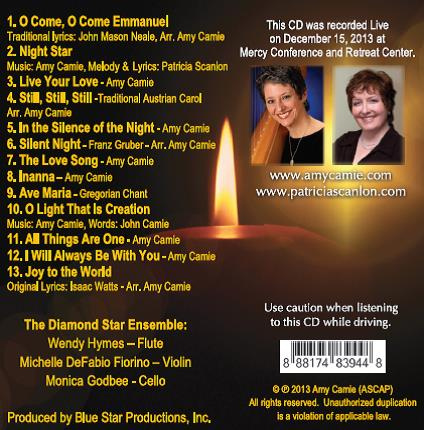 Enjoy these 3 selections from our concert
(Tracks 1, 8, & 13 on the "Tender Mercies" CD)
Special Thanks to:
Production Coordinator - John Camie
Sound Recording - Jamie Hammond
Sound Engineer & Audio Wizard - Adam Long
To contact Adam for your next audio project,
visit him on Facebook or call: 314-303-7709.

ARTIST BIOS:
Amy Camie is an award winning harpist, recording artist, composer, author, public speaker and Founder of the Scientific Arts Foundation. Her solo harp CDs have been used in several research studies indicating how they increase neurological functioning, support the immune system and reduce pain, distress and anxiety levels. She has presented over 200 seminars and workshops for local, regional and national audiences on the power of sound, music and healing and is a contributing author to two international books, "The Spiritual Significance of Music" and "LOVE LIFE FORGIVE." Amy's CDs are used throughout the country in hospitals, cancer centers and hospices as well as for general relaxation and stress reduction. www.amycamie.com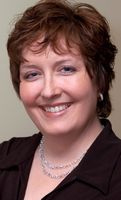 Patricia Scanlon, has performed in a wide variety of venues, as a soloist with orchestras, as a professional narrator, leading ladies in musical theatre and cabaret, and in voice over work for local radio and television. Of note are her performances as soloist with the St. Louis Symphony Orchestra, her cantoring for the Archdiocese of St. Louis, and with the St. Louis Theatre Musicians Orchestra (TMO) in "Best of Broadway" LIVE concerts, a musical theater outreach program to local schools and educational institutions. Patricia has been a voice instructor at St. Louis University, now teaches voice part-time, and sings for weddings and special events. www.patriciascanlon.com
Flutist Wendy Hymes has given the world premieres of over 30 musical works and performed in the U.S., Brazil, England, Ghana, Nigeria, and Togo. She has served on the Music Faculties of Southern Illinois University at Edwardsville, Louisiana State University and Arkansas State University teaching Flute, Flute Pedagogy, Music Appreciation, Music for Children, Elementary Music and Arts Administration. www.wendyhymes.com
Michelle DeFabio-Fiorinoreceived her violin performance degree from the Wheaton College Conservatory of Music in Illinois. Her first CD entitled "A Gift of Hope" raised money for the construction of an orphanage in Juarez, Mexico. In 2005, Michelle and her husband Gary, an accomplished pianist, released their first CD entitled "Waiting for You" dedicated to Sophie, their adopted daughter from China. Michelle completed her Masters in Teaching at Lindenwood University in 2008 and is currently teaching strings in the Parkway School District. http://www.cdbaby.com/cd/gmfiorino
Monica Godbeehas performed extensively as a cellist in diverse solo, chamber, and orchestral settings. She has appeared as soloist with the St. Louis Chamber Orchestra, Alton Symphony Orchestra, University of Miami's Frost Symphony Orchestra, and Gateway Festival Orchestra. Her summer festival participation has taken her across the United States, performing at The Kennedy Center/National Symphony Orchestra Summer Music Institute, Interlochen, Brevard Music Center, and Rocky Mountain Summer Conservatory. Monica recently graduated from the University of Miami.