**********************************
Northwestern Health Sciences University
2016 Oncology Massage Healing Summit
April 22-24 - Bloomington, MN
**********************************
Saturday, April 30, 2016
10:00am - 3:00pm
REGISTRATION DUE APRIL 15TH
see below for form
Mercy Conference and Retreat Center
2039 N. Geyer Road, St. Louis, MO 63131


Compassionate Reflections
A day of gentle self-care and spiritual renewal

Sponsored by

F.R.E.S.H. Renewal Center


&
Pathways Hospice and Palliative Care

"Compassion grows from within as we
lovingly embrace all aspects of ourselves."
~ Amy Camie
Join us as Amy passionately shares over 30 years of personal
experience and spiritual practices through her deep understanding
of vibrational energy, healing harp music, insightful visualizations,
and loving self-care perspectives.
Come experience this inspired retreat for self-renewal
then walk away empowered with new ways to nurture
compassionate connections within yourself and with others.

WHEN: Saturday, April 30, 2016
Time: 10:00am - 3:00pm (Registration begins at 9:30am)
WHERE: Mercy Conference and Retreat Center
2039 N. Geyer Road, St. Louis, MO 63131
Requested 5 Contact Hours: MCB (Missouri Credentialing Board)

Copy, Print, and Return the section below to Register
OR
Download the "Compassionate Reflections - black & white" Flyer
to use the Registration Form at the bottom of the flyer.

Registration is due by APRIL 15th
For more info. call Carol Martin 314-839-8828
Name_____________________________________________________________

Address: ___________________________________________________________

City ________________________ State ________ Zip Code _____________

Phone_________________________ Email_______________________________

The registration fee for this event is $45 per person
which includes admission, coffee, lunch, and event handouts.
If you are unable to afford this fee, contact Carol Martin about scholarship information at 314-839-8828.
_______ $45 Event Fee
________$15 (MCB) 5 Contact hours

AMOUNT ENCLOSED: ___________
Send check payable to:
FRESH Renewal Center
c/o Carol Martin
1340 Burning Tree Dr.
Florissant, MO 63033
**********************************
Sunday, May 1st
9:30am & 11am Services
Morning Music at Eliot Chapel
**********************************
Wednesday, May 4 @ 6:30pm
Pathways Hospice Annual Memorial Service
**********************************

Tuesday, May 4 & Wednesday, May 5 – SOLD OUT
St. Louis Science Center Planetarium
6:00pm – 8:30pm
Unroll your mat for our most epic Yoga Buzz event – Yoga Under the Stars at the St. Louis Science Center's Planetarium! Two dates are available: Wednesday, May 4 and Thursday, May 5. Each evening will begin with a star show, followed by yoga in a dark room with the constellations above head. Enjoy live music accompanying the yoga class. (Me :-) on May 5th) After class, grab some complimentary snacks. House margaritas are available for an additional $7. Tickets are $35 and include yoga, star show, and snacks.
**********************************
Tuesday, May 17
Tune in to listen @ 11am
Radio Arts Foundation Interview

**********************************
Wednesday, May 18
A Celebration of Life Service
St. Luke's Hospice
**********************************
Saturday, May 21st
7:00 - 8:00pm
Eliot Unitarian Chapel
100 South Taylor
Kirkwood, MO 63122
Love Donation for Concert
CDs will be available for purchase

Amy Camie & Aska Kaneko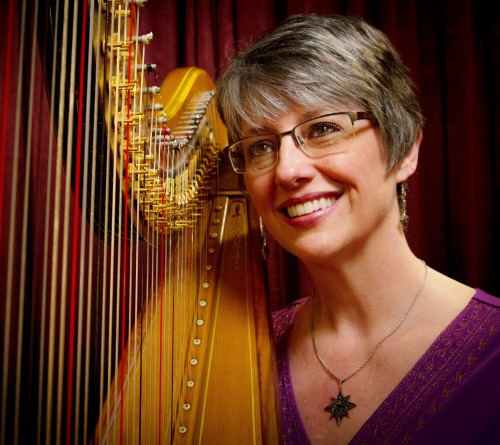 Perform music from their new CD
"A new experience of harp and violin
like you've never heard before;
this music takes you on a tour of cosmic energies,
expressing universal truths in a musical language
that cannot be described in words.
It's beautiful, transcendent and uplifting."
- John MacEnulty
Amy Camie, a gifted spiritual harpist, and Aska Kaneko, an acclaimed international violinist, join together to create a transformative musical experience. With impeccable classical technique, compassion, and open spiritual connection, their inspired and unique playing styles transport the audience into a dimension of sacred communion. Energetic rhythms and soothing harmonies evoke within the listener a loving awareness that touches the soul and reminds us we are all connected.

**********************************

Please continue to enjoy the CDs available.
For a complete listing of past events and concerts:
Amy's Curriculum Vitae
Join Our Email List
to learn about Events