The Magic Mirror
Inspired Reflections CD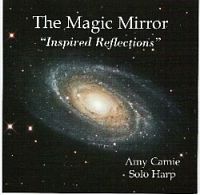 "The Magic Mirror" solo harp CD
by Amy Camie is...
Purchase CD or Download from:


PDF Directions:
"How to Redeem Your Free Download Code"

Purchase Download through
my Affiliate Program using PayPal
Disclosure: When you purchase through this Affiliate link,
our son, Christopher, receives a small Affiliate commission.
"The Magic Mirror" calms the mind, relaxes the body,
and relieves pain, stress and trauma held within the soul.

These beautiful melodies wrap you gently in compassion,
so you can remember love and experience inner peace.
Plus...there's pilot study data
QEEG Brainwave Pilot Study Results


and Saliva Sample Immune System Results
Effect of Music on Psychoneuroimmunological Responses
Testimonials
from people about how this music touched their life.
Pilot Studies Featured in Energy Magazine Sept/Oct 2017 Issue
Subscribe to this online magazine for FREE
"Music To Reduce Stress"
"Music To Relieve Pain"
"Music For Mental Health"
"Music To Help You Sleep"
"Music For Inner Peace"
"The Magic Mirror" Melodies - a Facebook Live Video
Purchase 10+ "The Magic Mirror" CDs for $10 each
through our Corporate Sponsorship Opportunity
Join my Affiliate Program and
receive a 20% commission when you share
"The Magic Mirror" audio download
on your website
Join Our Email List and receive updates on
Special Events, Concerts and New CDs
Please remember, as stated in our Terms of Use, we do not expressly or implicitly guarantee, promise, or warrant any specific results or response from the use of this music and disclaim any responsibility for any adverse effects that may result from its use. Individual responses or results from may vary.
The information, products and services offered on this website are not intended as a substitute for any treatment plan or recommendation prescribed by a physician or healthcare professional.