This 65 min. solo harp CD gently supports:
Healing Touch Sessions
Massages
Yoga Classes
doTERRA AromaTouch® Technique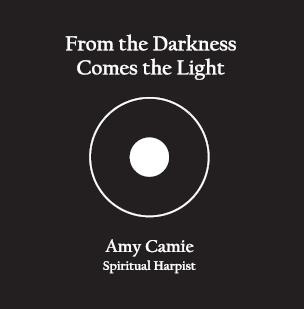 Listen and Download from

iTunes Amazon

Note: if you live in the St. Louis area and would like to come by to pick up CDs, please contact me.
These spiritually inspired solo harp expressions,
recorded in the sanctuary of our home,
gently invite the listener to travel to the depths of their soul
and experience the infinite beauty of their love.
"From the Darkness Comes the Light" was recorded on All Saints Day and All Souls Day 2016 in the comfort of our home as my husband, best friend, and soulmate, John Camie, co-created our sacred space with his presence and spiritual vision. In less than 2 hours, all of this music was recorded.
These spiritually inspired solo harp expressions spontaneously flowed from the depths of my soul, through my heart, and out my fingertips as gentle drops of starlight in melodies that awaken the love deep within. May we all remember with gratitude the womb of darkness from which we came to BE.
Titles:
1. Embracing the Darkness - 7:30
2. The Light in the Darkness - 3:42
3. Breaking Through - 4:04
4. Ascending - 5:38
5. Golden Awareness - 4:05
6. Nurturing Rains - 4:23
7. Moonlight Memories - 7:15
8. Love's Reflection - 5:06
9. Reverence - 6:55
10. Time for Change - 6:03
11. Floating on the Breeze - 5:06
12. The Circle of Love - 5:17
This 65 min. musical journey is wonderful for massage, yoga, healing touch, hospice and general relaxation and meditation.
Produced by BlueStar Productions, Inc. © ℗ 2016 Amy Camie (ASCAP) All rights reserved. Unauthorized duplication is a violation of applicable law. Use caution when listening to this CD while driving.