Amy Camie is an Inspired Contributor to Life
through Healing Harp Music, Education, Speaking, Writing,
Research Development, Self-Discovery, and Living a Wellness Lifestyle.

As a Certified Clinical Musician, Professional & Therapeutic Harpist,
her inspired music is used around the world to help
relax the body, calm the mind, and gently soothe the soul.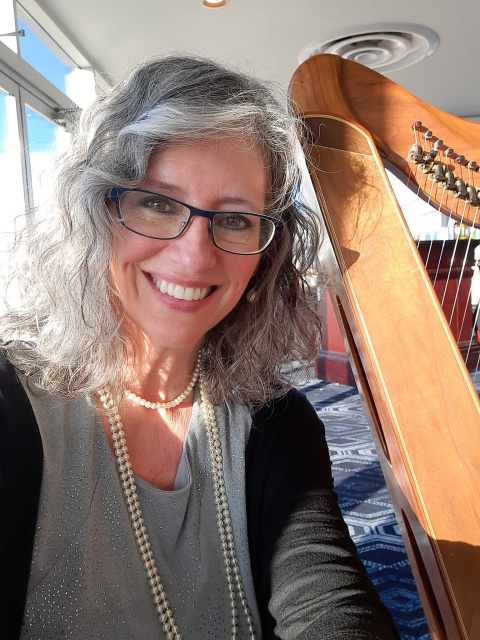 I'm a passionate woman who loves expressing my gifts,
living my truth, and empowering others to do the same.

My life is a tapestry of
personal growth through
marriage and motherhood,
deep spirituality,
classical musical training,
research development,
two journeys with breast cancer,
healing concerts & events,
hundreds of presentations on the power of music,
resonance, & conscious self-care, and
sharing original music that sings from the depths of my soul.
Header Photo Credit: Captured by Videll
Amy Camie, CCM (she/her)
Certified Clinical Musician
The Healing Harpist
Amy Camie is a classically trained professional harpist, Certified Clinical Musician, TEDx Speaker, and 2-time breast cancer thriver who uses music as a metaphor to empower individuals and groups with skills that build trust, understanding, empathy and self-compassion.
Certified in Intercultural Creativity®, Amy recognizes the potential opportunity for learning in every experience. She encourages audiences to open their mind, expand perceptions, and increase self-awareness to create a deeper sense of connection and community within and around them.
Known as "The Healing Harpist," Amy has co-authored 2 clinical trials exploring the use of music to help reduce anxiety, and support brainwave and immune system function in cancer patients. Her music, "The Magic Mirror," has helped thousands of listeners around the world relax, sleep and heal. Published research concludes, "… that listening to "The Magic Mirror" solo harp CD can be used in combination with other therapy for cancer or physiologically stressed patients to reduce the magnitude and duration of the effect of their disease."
Amy continues to broaden the conversation about music, creativity, and self-discovery through innovative talks, programs, articles and interviews.
Download PDF Speaker Sheet
ARTIST STATEMENT and RESEARCH BACKGROUND
I'm grateful to be a
Charter for Compassion Arts Partner


Meet my husband,
John Camie

Photo by Lisa Fioretti

My husband, best friend and soul mate, John Camie
is the inspiration and producer of all my original music.

John is also the Messenger of
The ORIGIN Methodology of Self-Discovery.
It is this system that has helped me awaken
to my unique expression of love
which we joyously share with you.
Our Company,
BlueStar Productions, Inc.