We invite you to join us in-person and/or virtually for these special musical experiences that will relax your body, calm your mind, and gently soothe your soul.
All 3 events are free, in-person (masks required), and open to the public.
The 2 in IL are also Live-Streamed from the links provided.
Tuesday, December 7th
7:00pm - 8:00pm
Ladue Chapel Presbyterian Church
9450 Clayton Road
St. Louis, MO 63124
In-person only - masks required
Free & Open to the Public
Sunday, December 19th
2:00pm - 3:00pm
First Presbyterian Church of Alton
Corner of Fourth & Alby Streets
Alton, IL 62002
In-Person (masks required) & Live Streamed
Free & Open to the Public
Sunday, December 19th
6:00pm - 7:00pm
Lovejoy United Presbyterian Church
2550 Rock Hill Road
Wood River, IL 62095
In-Person (masks required) & Live Streamed
Free & Open to the Public
***************************
Contact me if you're interested in scheduling on-line classes.
Life Lessons below can be shared in 1, 2, 3, or 4 classes.
Click the image to view short video clips from this series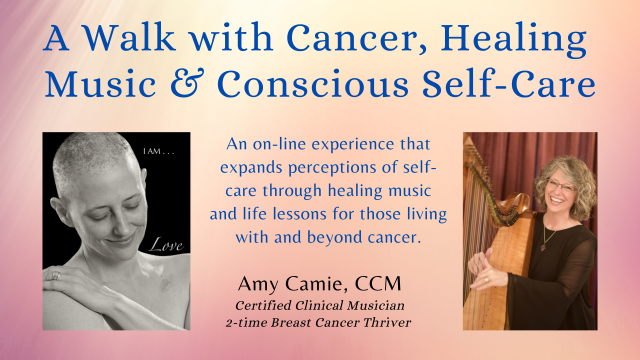 I invite you on a journey of self-discovery as we explore
Life Lessons, experience healing harp meditations,
and enjoy inspiring insights encouraging us to
slow down and compassionately embrace
the fullness of who we are.

Week 1
LIFE LESSONS
When I'm caught in doing, I'm resisting being
Change is constant so dance within the moment
I have the choice to choose how to live my life
It's OK to have my own belief system

Week 2
LIFE LESSONS
It's important to take time for myself
Listen, trust and choose that which is most loving and supportive to me
The only way to know a feeling is to feel it
Week 3
LIFE LESSONS
A shift in belief, expands perceptions, and alters the experience
Judgment and assumptions restrict possibilities
My healing comes from within
Week 4
LIFE LESSONS
Release attachments and live fully without masks
Be open to love and allow it to flow freely
I AM not my experiences...I AM soooo much more!
Each Life Lesson comes from personal experiences
with breast cancer outlined in my book:
How others experienced this class series:
Amy,
Thank you for sharing your class, "A Walk with Cancer, Compassion and Conscious Self-Care" to members of the Cancer Support Community of Greater St. Louis. In reviewing the program survey results, I learned that after participating in your program, our participants felt lower levels of stress, lower levels of anxiety, felt more hopeful and felt more connected with others.
About your instruction, one member stated, "her teachings are practical, lovely and given gently."
I am grateful you reached out to share your story, your gifts and your energy and provide the healing space for our community members to breathe. I would love to explore offering this class again in the future.
Warmly,
Dannie
Dannielle (Dannie) Hodges, (She/Her) MSW, LCSW
Program Director
Cancer Support Community of Greater St. Louis
***************
************
For a complete listing of past events and concerts:
Amy's Curriculum Vitae