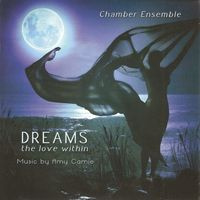 Below are the talented musicians who shared their gifts in the co-creation of
"DREAMS-the love within" Chamber Ensemble CD:
Wendy Hymes - Flute

Wendy Hymes has BA, MM and DMA degrees in Flute Performance from Principia College, Indiana University, and Louisiana State University. Dr. Hymes is known to exert definitive interpretations of standard repertoire from the Baroque era to 20th-century composers. She also sets the pace in intercultural music, performing at festivals in Ghana, Nigeria and England. Her new CD, "African Art Music for Flute," was released in March 2012 and features music by composers from Ghana, Nigeria, South Africa and Uganda. She has served on the music faculties at Louisiana State University, Southern Illinois University at Edwardsville and Jefferson College and performed with the Louisiana Philharmonic Orchestra, and as principal flute of the Union Avenue Opera. For more information, please visit her website, http://wendyhymes.com/index.html
Michelle DeFabio-Fiorino - Violin
Michelle DeFabio-Fiorino received her violin performance degree from the Wheaton College Conservatory of Music in Illinois. Her first CD entitled "A Gift of Hope" raised money for the construction of an orphanage in Juarez, Mexico. In 2005, Michelle and her husband Gary, an accomplished pianist, released their first CD entitled "Waiting for You" dedicated to Sophie, their adopted daughter from China. Michelle completed her Masters in Teaching at Lindenwood University in 2008 and is currently teaching strings in the Parkway School District. http://www.cdbaby.com/cd/gmfiorino
Monica Godbee - Cello
Monica Godbee has performed extensively as a cellist in diverse solo, chamber, and orchestral settings. She has appeared as soloist with the St. Louis Chamber Orchestra, Alton Symphony Orchestra, University of Miami's Frost Symphony Orchestra, and Gateway Festival Orchestra. Her summer festival participation has taken her across the United States, performing at the Kennedy Center/National Symphony Orchestra Summer Music Institute, Interlochen, Brevard Music Center, and Rocky Mountain Summer Conservatory. Ms. Godbee has collaborated with many phenomenal musicians, including her mother and sister. Monica is currently a member of the Miami Symphony Orchestra as well as a mentor and teaching artist of the Greater Miami Youth Orchestra's Building Assets Music Intensive Program. http://communityartsprogram.org/meet-the-staff/monicagodbee/
Laura Ross - Oboe
Laura Guyer Ross received her Bachelor of Music degree in Oboe Performance from Miami University in Ohio and her Master of Music degree in Oboe Performance from Arkansas State University. In addition to teaching oboe at Washington University, Laura is Adjunct Professor of Double Reeds at Southeast Missouri State and is adjunct faculty at St. Louis Community College - Meramec. Laura performs as extra oboe for the St. Louis Symphony Orchestra and performed with the St. Louis Symphony in Carnegie Hall in New York in the Spring of 2012. She has performed with such ensembles as Opera Theater St. Louis, the Illinios Chamber Orchestra, the Illinois Symphony Orchestra, the Alabama Symphony Orchestra, Winter Opera (St. Louis) and Opera South (Alabama). She has also performed three seasons with the Missouri River Arts Festival and two seasons with the Innsbrook Institute Summer Music Festival.
An active supporter of chamber music, Ms. Ross has been heard in many chamber series in the St. Louis and Cape Girardeau areas. She frequently performs with her colleague Patrick Rafferty, Classical Guitarist, in their duo: Double Fret.
Recently, Laura was a soloist at the International Double Reed Convention in the summer of 2012 and has been a soloist with such groups as the Madras String Quartet, St. Louis Children's Choirs and Forum Sinfonium, a touring chamber orchestra based in Krakow, Poland. In addition to teaching and organizing many Master Class Recitals in Missouri through the years, she also performed and taught a Master Class at the Royal Northern College of Music in Manchester, England in 2008.
Contact info: oboe_laura@yahoo.com
Carole Lemire – French Horn
Carole Lemire received her Bachelor of Music Degree from Boston University, studying under David Ohanian, and a Performing Artist Certificate from the St. Louis Conservatory, studying under Roland Pandolfi. She is the former principal horn with the Opera de Colombia and Sinfonica de Antioquia in Colombia, S.A. and also a former member of the Mexico City Philharmonic, Orquesta Sinfonica Portuguesa and Opera Sao Carlos of Lisbon, Portugal. Ms. Lemire has performed with the Saint Louis Symphony Orchestra, Atlanta Symphony Orchestra, Savannah Symphony, Fox Theater Orchestra and Atlanta Ballet Company as well as the Bach Society, Masterworks Chorale, Kammergild Chamber Orchestra, Ballet Orchestra of St. Louis, Union Avenue Opera Theatre, Webster Symphony Orchestra and other area ensembles. She is a member of the St. Louis Brass Ensemble and St. Louis Horn Quartet, and is on the faculty of Washington University and the Community Music School of Webster University.
E-mail: clemire@wustl.edu / Phone: 314.862.549 / www.equinoxchamberplayers.org / http://music.wustl.edu/people/lemire
Mary E. Weber - Trumpet
Mary Weber, Trumpet Soloist, Manager, works in numerous ensembles throughout the St. Louis Metro area, including the St. Louis Symphony in which she has been a Sub/Replacement since 1990, Opera Theater St. Louis. She is actively engaged in recordings, competitions, recitals and lectures, and is the Manager of Clarion Brass. Clarion Brass released its first Holiday CD, "Sleigh Ride ~ Over The Top!" December 1, 2011 to exciting reviews! The Holiday concerts Clarion books, along with their NEW CD (on Eye-Full-Tower record label) will become one of St. Louis' perennial favorites, and is available on the Clarion Brass website. She has performed with the Union Avenue Opera and St. Louis Brass Band, Bach Society, American Kantori, Bob Coleman's "Legacy Big Band," and many others . Mary was Principal Trumpet in the New Orleans Symphony for two years. She has also been featured as a soloist with the Compton Heights Concert Band, Alton Symphony, St. Louis Brass Band and St. Louis Philharmonic. Her virtuosity and enthusiasm for music has provided her with far-ranging performances with such notables as Mannheim Steamroller, Mel Torme, The Temptations, Luciano Pavarotti. She has toured throughout the United States and Europe including Carnegie Hall with the St. Louis Symphony. She also did a Solo Recital Tour of Scotland, performing in 14 towns and villages throughout Glasgow and Edinburgh. She attended the Tanglewood Institute as a Fellow of Leonard Bernstein, the Spoleto Festival (U.S. and Spoleto, Italy), Classical Music Festival (Eisenstadt, Austria). She holds a Bachelor of Music Performance from University of Miami, a Master of Music Performance from Syracuse University. She is Adjunct Professor at St. Louis University teaching Music Appreciation, Development of the Orchestra, Bio-Musicology and Music Theory. She has been the Conductor of the Oasis' New Horizon Band from 1999 until 2003. Mary loves teaching private trumpet lessons with students ranging in age from 10 – 74!
For more information: www.clarionbrass.org
Amy Camie – Harp and Composer
"Music is the voice of the Universe. It is the expression of unconditional love which the artist brings to the hearts of those who listen." Amy Camie
With two music teachers as parents, Amy Camie naturally began her music career early with pianos lessons in kindergarten and harp lessons in the fourth grade. Her high school musical career was filled with many wonderful experiences including traveling to Europe with the St. Louis Symphony Youth Orchestra; performing on Mackinac Island as the Grand Hotel Harpist; being named Illinois' Junior Miss and Overall Talent Winner at America's Junior Miss Scholarship Competition and the Miss Illinois Pageant, plus numerous awards.
Amy is a 1987 Telecommunications graduate of Indiana University where she studied harp with two of the most respected harp teachers in the country, Susanne McDonald and Linda Wood.
After graduation, Amy returned to St. Louis where she performed professionally for private and social functions, as well as with many area orchestras including the St. Louis Symphony, St. Louis Bach Society, Masterworks Chorale, Belleville Philharmonic, Alton Symphony Orchestra and the Kirkwood Symphony.
In 1992 Amy married John Camie and began a new phase of musical expression as a video editor and events coordinator for their production company, West End Productions, Inc. In 1995, she was the Music Director for the pilot television program, "Weddings of a Lifetime," taped in the Grand Floridian Wedding Pavilion at the Walt Disney World Resort. She and her family moved to Orlando, Florida where she performed for private events on the Disney World property and was the orchestral harpist for the 1997 Christmas Candlelight Massed Choir and Processional at EPCOT Theme Park.
Upon returning to St. Louis with her family in 2000, Amy entered the next phase of her musical expression through solo harp recordings. Her first two CDs were inspired by a close family friend and her father who were both diagnosed with cancer. As a classically trained musician, she rarely thought about the healing power of music. However, a spark was ignited when people began sharing what they experienced when listening to her music. Doors opened and William Collins, PhD., a psychologist and neurotherapist in St. Louis, offered to measure brainwave frequencies of people as they listened to her CDs. To date, her solo harp music has been used in ten different research studies indicating they increase neurological functioning, support the immune system and reduce pain, distress and anxiety levels.
In 2002, she founded the Scientific Arts Foundation, a nonprofit organization that supports the value of creative expression through research, education and community outreach programs. Amy also speaks on "Vibrational Awareness and The Healing Power of Music" for medical professionals, community organizations and hospice volunteers.
Amy's deep spiritual connection with her husband, John, inspires all of her original music. A friend once said, "You touch others in such a deep place with your music...because it comes from such a deep place inside of you." Amy's CDs are used throughout the country in hospitals, cancer centers and hospices as well as for general relaxation and stress reduction. She lives in St. Louis, Missouri with her husband John and their two sons, Christopher and Justin.
For more information, visit: www.amycamie.com