"The Magic Mirror" CD
Corporate Sponsorship Opportunity
Front of CD sleeve Back of CD sleeve


A corporate gift
supported by research
This inspired solo harp music calms the mind,
relaxes the body, and gently touches the soul.
Share this non-invasive, cost-effective,
proven resource to reduce stress with
your clients, patients, staff, and volunteers
as a way to show you care.
Participate by:

1. Purchasing CDs
at a reduced price in quantities over 20
Share "The Magic Mirror" CDs with customers, clients, patients, staff, volunteers, families, at special events, community gatherings, or as thoughtful give-a-ways at charitable activities.
Include CDs in New Patient Welcome Kits or incorporate them into your existing wellness programs. It's easy to use, cost effective and safe.
Contact Me for more information

2. Becoming an Affiliate
and offer MP3 downloads from your website
(it's free to join - all you need is a verified Paypal account)
Join our Affiliate Program and offer "The Magic Mirror" MP3 audio download to your clients, patients, customers, audience, and more for $9.99 ~ use your 25% commissions ($2.49 per download) to raise extra money for your charity or organization. Audio downloads are an easy way encourage staff, clients, customers and volunteers to purchase and listen to the music on their favorite listening device. Once your link is set up, the purchaser will automatically be directed to the download page upon completion of their Paypal purchase.
CLICK HERE for more information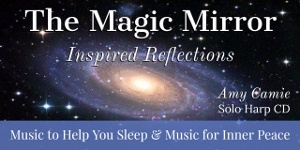 A Sample List of Organizations that have sponsored my CDs and given them as gifts:
Alternative Hospice
Ascension Health
SSM St. Mary's Health Center Foundation
SSM St. Clare Health Center Foundation
Mercy - St. Louis
St. Louis Ovarian Cancer Awareness (SLOCA)
MS Evening of Hope
Alzheimer Association
JCC of Manhattan
Little Patriots Embraced
Hospice Pharmacia
Greater St. Louis Hospice Organization
Cox Medical Center
St. Anthony's Medical Center
Crossroads Hospice
Hulston Cancer Center
Halifax Medical
Hospice of the Florida Suncoast
BJC Psychiatric Services
Aurora West Allis Medical Center - Women's Pavillion
J.A. Glynn Investments
Lighthouse Hospice
Inner Self Stores owned by Sara Lee
Southwest Bank
Lord of Life Lutheran Church
St. John's NICUPS
Tidewell Hospice
Scientific Arts Foundation - Help Soldiers Sleep
This page is designed to share information
about our research with "The Magic Mirror" CD
and ways Corporations, Groups and Teams
can sponsor this CD as gifts. This page is designed to share information
about our research with "The Magic Mirror" CD
and ways Corporations, Groups and Teams
can sponsor this CD as gifts.
"The Magic Mirror" has touched the hearts of thousands
THIS MUSIC IS SUPPORTED BY
RESEARCH

Quantitative EEG research with this 23 minute CD indicates it has a direct positive impact on brainwaves disrupted by stress and trauma. After listening to this CD once a day for 10 days it increased neurological functioning (as measuring by Quantitative EEG) in 5 women undergoing chemotherapy treatment for cancer.
Dr. William Collins conducted the QEEG pilot study and commented:
The results were in a direction that was totally unexpected. I had supposed that certain frequencies related to stress or relaxation would change. Solo harp music is very relaxing and enjoyable. This would be a reasonable expectation.

What I didn't expect was that fundamental brain functioning would change. In each of the subjects the pre qEEG report indicated specific areas of deviation from the norm or decreased functioning. As we supposed, the stress had made its mark on each person involved in the study. The brain showed decreased ability in every day life.

However, after listening to the music for ten days, ALL subjects' brains tended to normalize.
In other words, listening to "The Magic Mirror" solo harp music had a direct positive effect on the subject's neurological functioning, not simply increasing or decreasing stress responses.
Saliva sample studies indicate this music has a sustained impact on immune system biomarkers for up to 72 hours after listening to it once. Dr. Abdul Waheed summarized these findings by stating: These results suggest that the effect of "The Magic Mirror" listening is very effective and could be used in combination with other therapy for cancer or physiologically stressed patients to minimize the effect of their disease.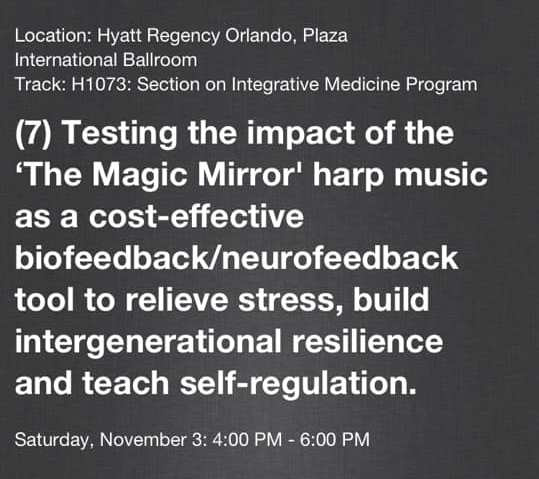 Conducted by Dr. Anu French - her comments include:
"Our pilot study on 'The Magic Mirror' harp music (by Amy Camie, Harpist) as a cost-effective biofeedback/neurofeedback tool to relieve stress, build intergenerational resilience and teach self-regulation, was well received at the AAP's Section On Integrative Medicine Session! Thanks to SOIM research grants from the AAP/MPPPA and hard work by Kristy Shaughnessy, our wonderful research assistant, we showed positive outcomes in resilience and QOL (quality of life) scores and calming of QEEG brainwave patterns supporting our hypothesis that this healing music by Amy Camie has powerful psychoneuroimmunological effects to help reverse inflammation/toxic stress."
Testimonials of how this music changes lives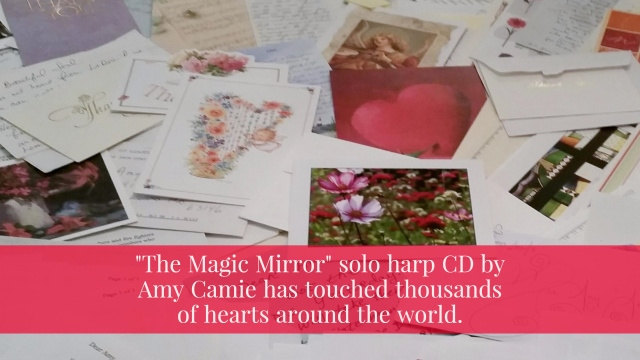 Click Here to watch the nature video "Autumn" and
hear the first 4:28 minutes of "The Magic Mirror"