2. Circles of Self-Awareness
A 2-3 hour group experience using The LOTUS Mandalas (4-8 people)
Cost $250 (cost can be distributed among attendees and/or guaranteed by the Host/Hostess)
Contact Amy if you'd like to schedule a Circle with your group of friends.
Circles of Self-Awareness are gatherings that offer clarity, confidence, and connection within ourselves and with each other. It is a group experience of conscious awakening as we calm our minds, open our hearts and listen to the whispers of our soul.
Circles of Self-Awareness offer the opportunity to see our reflection in others and remember the wholeness of who we are - for compassion grows from within as we lovingly embrace all aspects of ourselves.
Circles of Self-Awareness begin with an initial meditation that opens an inner pathway of connection that is unique to each person. The insights that come to awareness become the reference points for each individual throughout the remaining experience. As we share our personal insights, common patterns and feelings emerge and we begin to see our reflection in others.
Hearts open as the conversation deepens with the selection of The LOTUS Mandalas.
Circles of Self-Awareness expand within each individual as these symbolic messages reflect the commonness of our human experience; reminding us we are all connected and never alone.
Testimonials after experiencing one
"Personal Reflection" time
with John & Amy Camie:
The mandalas are unlike any other spiritual deck I have ever seen.
The powerful process you have created
to accompany the use of the mandalas was brilliant.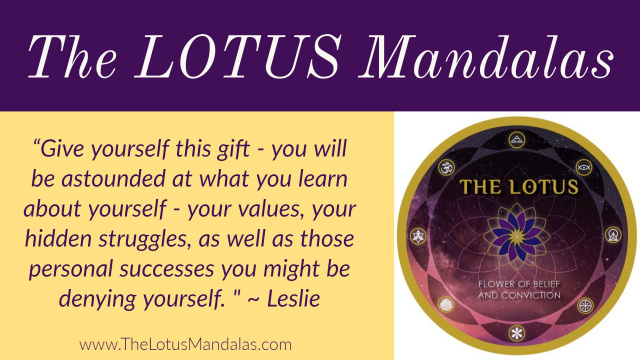 I can think of no better way to enter 2017 than sitting down with John and Amy and doing the Lotus Mandala! Give yourself this gift - you will be astounded at what you learn about yourself - your values, your hidden struggles, as well as those personal successes you might be denying yourself. I am constantly amazed at the layers of self knowledge that unfold when I spend an evening sitting with John and Amy. ~ Leslie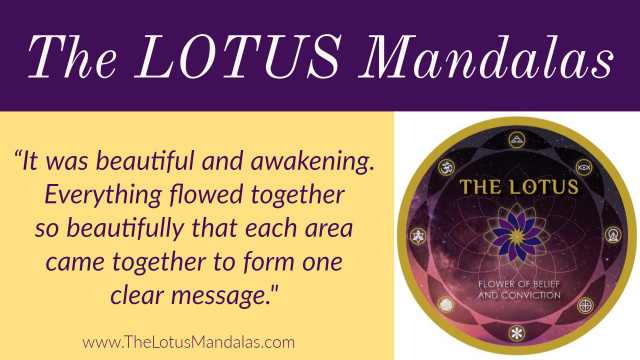 They are sacred, powerful oracles to self awareness and discovery. ~Anahata
It was spot on. I felt it brought out what was going on with me. ~Sandy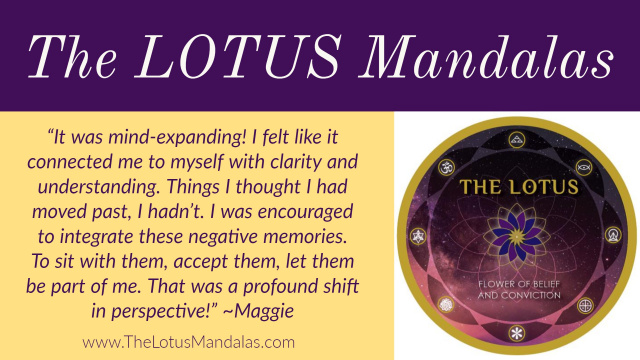 It was mind-expanding! I felt like it connected me to myself with clarity and understanding. I didn't realize how much negativity I was holding onto through my memories! Things I thought I had moved past, I hadn't. I was encouraged to integrate these negative memories. To sit with them, accept them, let them be part of me. That was a profound shift in perspective.
The reading helped me make the connections I needed to make to dig through some muck to get more clarity. It gave me things to work on and through and to sit with so that I could integrate those things into my being and then move towards more light! ~Maggie
I had a very powerful experience with The Lotus Mandalas ~Amelia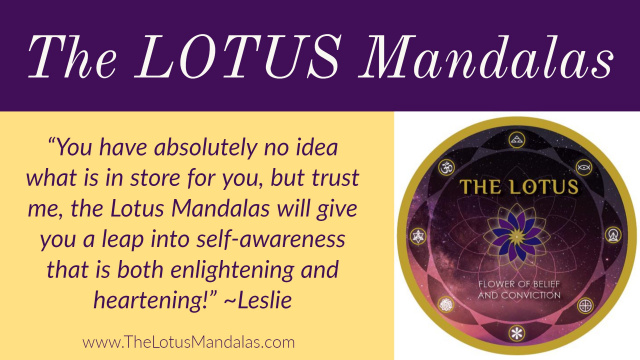 Very high vibration.
I think the information seemed to make sense to me
as I integrated the work. ~Kathy
I felt it was very helpful.
The Mandalas were very informative and had in-depth answers
I feel that the LOTUS Mandalas reflect the wisdom
within me that needs to be heard in that moment. ~Kathy
An amazing experience - it is profound!
I have been journaling ever since I got home.
The experience gave me insight to my feelings
that I had difficulty letting out.
It was very insightful
The lotus mandalas reminded me of several aspects of my journey, and pointed out to me where I have lingering self-doubt. I felt encouraged and uplifted by the message I received and was also guided to look at some things more deeply and from a different perspective. ~Rachel
The LOTUS Mandalas, unlike any other methodology I've experienced, awaken a light within turning you into a flashlight, shedding light on all that you see. It is not helpful to be a bright light shining directly into someone's eyes- that feels forceful and blinding. It is also not helpful to be a lighthouse, for others to follow- for when they cannot see you, they feel lost. Helpful more is in handing someone a flashlight to use to see what they'd like, helpful most is to become the flashlight for you cannot lose your tool. ~Sara
Feelings I had from an experience as a child moved from fear and fearful hope to trust and release. Learning that I have been holding grief in my body for a very long time is invaluable, and I am more trusting of my body's wisdom so I can release that energy. I feel much more grounded and clear and clean. I appreciate the experience and expertise that you both offer in a session. Diving into the darkness of the past can be threatening and scary, but that feeling passed quickly with my "escorts". I also felt incredibly supported in my own intuitiveness. I have already told several people about this process... ~Bridgette